A Guest Bedroom and Bath
This lovely new 4 bedroom house had one of the bedrooms designated as a guest bedroom. It was across the hall from a bathroom that was shared with the two other children's bedrooms. In other words the bath would be used by children as well as adults who would be the guests. The clients did not want to create a bath designed for children that looked juvenile but wanted something more sophisticated that would be appropriate for guests as well as their children as they grew older.
The furniture in the guest bedroom was furniture the couple had used before in their master bedroom . The carpeting, bedspread, and curtains were neutral shades of beige, brown, and a touch of pale blue grey. We chose Sherwin Williams 7738 Cargo Pants for the walls, a wonderful taupe beige that allows the design in the fabrics to stand out and be noticed. It is a warm full bodied color.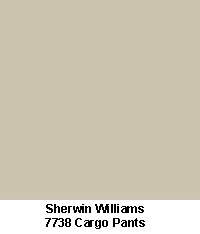 The bathroom had dark small horizontal iridescent tiles on the sink wall with white fixtures. Their were various shades of blue, grey, and even a greenish tint to the tiles. We needed to choose a light color to contrast with that wall but also relate to it as well. We chose Sherwin Williams 6217 Topsail a light blue grey with a touch of green. It is a refreshing color, very airy, and cheerful. It is a great color to use in the kids bathroom but has enough sophistication for a guest bathroom as well.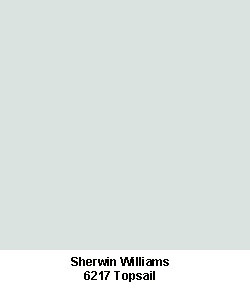 Tags: bathroom, Bedrooms, guest bedroom, Sherwin Williams, Sherwin Williams 6217 Topsail, Sherwin Williams 7738 Cargo Pants, taupe