Color Case Study: Before and After Photos
I will show "before" and "after" photos throughout this color case study of a house recently purchased by a young couple with two small children. They wanted to paint the entire interior. The existing colors were garish and loud with a different color in each room. The couple was not going to remodel or do major renovations at this time and decided to keep much of the existing carpeting and flooring. What they wanted to do was get rid of the "circus" colors and create a calmer more inviting space.
This was the view from the entrance. As you can see it was painted bright yellow and beyond you can glimpse a bright green in the kitchen. We wanted to use various shades of grey and blue for the entire first floor space. The entrance floor tile and kitchen tile was white and grey so it was an easy decision to stick with the neutral grey/blue palette. The entrance hall and dining room which was to the right of the entrance was painted Benjamin Moore 1591 Sterling a light grey. In the photo you can see one kitchen wall and an accent wall in the back of the photo. The kitchen was painted Benjamin Moore 1592 Blue Springs a slightly deeper shade of grey and the accent wall was Benjamin Moore HC148 Jamestown Blue.
As you can see, the transformation of the dining room from the garish yellow to the soft grey was a much needed change.   The accent wall in the kitchen was continued in the family room adjacent to the kitchen using Benjamin Moore HC149 Buxton Blue a slightly lighter shade to create a nice flow from room to room. In the "Before" picture note all the garish colors used together and see how lovely the rooms look now.
Here is a before and after shot of the family room. It carries the color scheme of the rest of the house through the room and looks good with the furnishings which like everything else might change as time goes on. But for right now we accomplished what the clients wanted, soft, inviting color that flows in this open floor plan.
The last room on this floor that we painted was a bathroom that had old wall paper on it. The sink and toilet were a vintage plum color. We chose a perfect light purple to compliment the plum and give the room a more sophisticated look.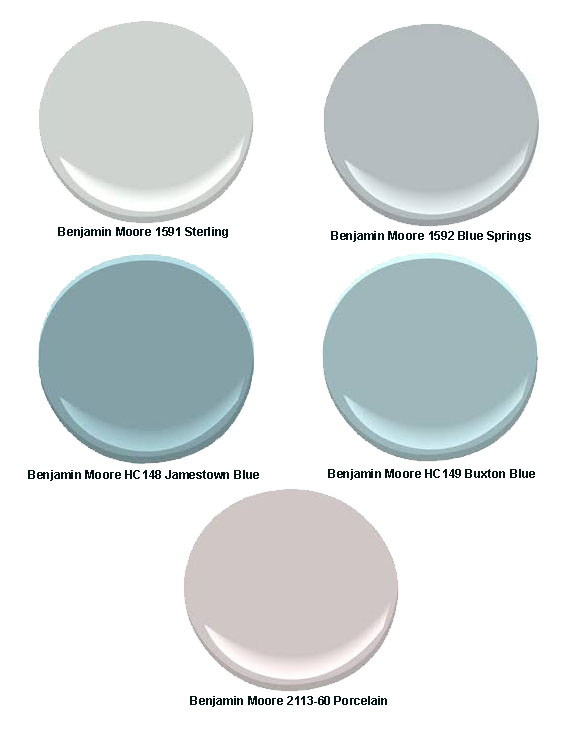 In the next case study I will show the basement and bedrooms upstairs.
Tags: accent wall, bathroom, before and after, Benjamin Moore 1591 Sterling, Benjamin Moore 1592 Blue Springs, Benjamin Moore 2113-60 Porcelain, Benjamin Moore HC148 Jamestown Blue, Benjamin Moore HC149 Buxton Blue, blue, dining room, entrance, family room, grey, kitchen, neutral palette, purple