Different Colors For Every Room, Continued
I'm continuing my discussion about the client who wanted different colors for each room. Last time I talked about the downstairs. Now I will discuss the upstairs, bedrooms.
It is easy much easier choosing different colors for each bedroom. Since the rooms are not open to each other, you don't have to worry about colors not looking good together. The important thing is to keep the hallway that connects each room a color that compliments the various bedrooms. Doors are sometimes open and looking from the hallway or to the hallway should be easy on the eyes. We had chosen Benjamin Moore Fennel Seed 1101 as the hallway color. We painted the entrance hall and stairway leading upstairs this color. It is a lovely warm gold beige.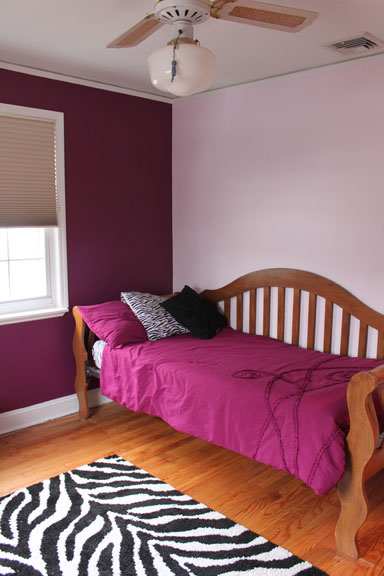 The daughter's bedroom was a small room with a black and white zebra pattern rug and a deep fuchsia comforter. The client and daughter liked the idea of using strong colors on an accent wall. We chose a color very close to that fuchsia, Benjamin Moore 2074-20 Summer Plum. I wanted just a hint of color on the rest of the walls. We chose Benjamin Moore OC-70 Whitewater Bay. The woodwork was painted white to give a clean crisp contrast to the walls.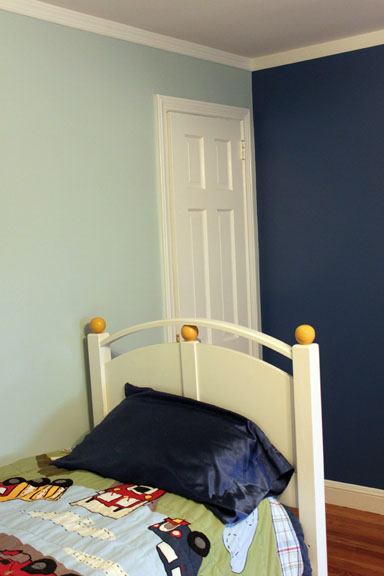 The son's bedroom was a large room. It had mostly white furniture. Using the bedding as a jumping off point we chose Benjamin Moore (Historic Color) HC-147 Woodlawn Blue which has a lot of green in it. For an accent wall we chose a deep blue Benjamin Moore 811 Old Glory. The two colors are slightly muted giving the room a more sophisticated color palette. But the colors are also cheerful for a boy's room.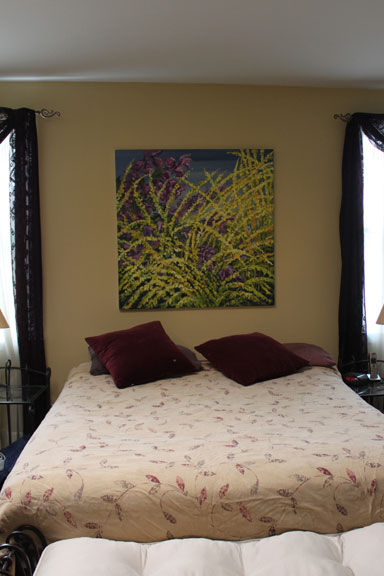 The master bedroom had deep burgundy drapes and accessories. There was also a large painting above the bed that had lots of purples in it. We chose a complimentary color to accentuate the painting and drapes and make them pop, Benjamin Moore 248 Mansfield Tan.