Difficult Rooms With Dormers and Eaves
If you live in an older house, the upstairs bedrooms can have dormers, eaves, or unusual architectural elements that make painting more difficult. How to handle those unusual rooms?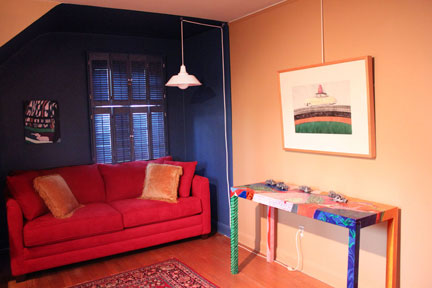 In the guest room above we highlighted the area of the dormer by painting it a deep blue. It emphasizes the area for the sleep sofa and makes it stand out. The rest of the room is painted a warm gold color. The red of the sofa brings out the reds in the rug and painted table. Rather than ignore the architecture, I like to highlight it.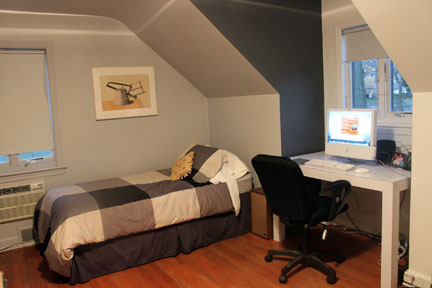 In the bedroom above we used the architectural lines of the room to give the bed area its own space and painted it a light grey. The dark grey accent wall is a sharp contrast to the rest of the room that is painted white.
Use caution in deciding which part or parts of the room to emphasize. You don't want the room to appear choppy and broken up. Take time to study the room and decide which elements will add interest if painted a different color. As in the room above only one small wall with an eave was painted dark grey. Even though the room had other eaves, we chose just to highlight this one.