Painting and Decorating Two Boys' Bedrooms
Both brothers were under age 6 and the mother wanted the rooms to be decorated in a way that could grow with the children. In other words, nothing too juvenile. Both rooms were quite large and we could use color in an interesting and fun way to highlight the size of the rooms and/or accent a wall.
For the older boy we chose a warm neutral beige for three of the walls. This beige was picked up by the carpeting chosen for the floor. On one wall we chose a navy blue as a strong accent. We used the navy again as a horizontal stripe that surrounded the rest of the room near the ceiling. We also picked a deep red and painted two thin stripes above and below the navy stripe. This room is clearly a boys room, one he can grow up in and enjoy for many years to come. On the practical side, if the room needs repainting it is easy to do.

We used Sherwin Williams paint, 6141 Softer Tan as the basic color and 6804 Dignity Blue and 7600 Bolero as the accent colors.


The mother had found diamond shaped decals she wanted to use around the room of the younger son in an argyle pattern. We decided to use them chair rail height and paint a deep color border behind the decals to emphasize them and bring out the pattern. We needed to pick colors for above and below the chair rail. Because the decals were dark I felt we needed to brighten the room with happy colors appropriate for a young boy.

As you can see in the photo above smaller rusty red decals will be applied over the green ones. At the time of the photo shoot this had not been completed yet. This little touch of red will add another dimension to the room and bring out the other colors. It is cheerful and inviting but not too juvenile.
Again we used Sherwin Williams paint. Above the chair rail we chose a bright warm creamy beige 7722 Travertine and below a soft yellow green 6422 Shagreen.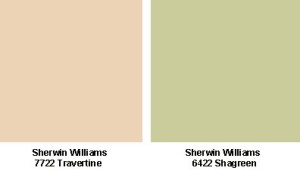 Tags: 7722 Travertine, accent colors, argyle, Bedrooms, boys' bedrooms, bright, cheerful, pattern, Sherwin Williams, Sherwin Williams 6141 Softer Tan, Sherwin Williams 6422 Shagreen, Sherwin Williams 6804 Dignity Blue, Sherwin Williams 7600 Bolero, stripes