Part II: Refreshing A Traditional House: Main Floor
This is the same house I discussed in the last blog. It is a lovely house that needed new paint and wallpaper. The house had been decorated years before and the client was not changing the décor.

There had been some water damage in the living room and that was another reason for painting. The living room had been papered with a grass cloth paper. In addition the crown molding was painted a turquoise. Because the dining room, which is adjacent to the living room, had wallpaper that we were not removing, I felt that the living room should be painted. I felt the contrast created by papering one room and painting the other room was necessary. Choosing a paper for the living room would make the house too busy.
I chose Benjamin Moore 1087 Creamy Satin, a light beige with a touch of peach that picked up colors in the room and looked good with the adjoining dining room. The crown molding and ceiling were painted Linen White. Changing the molding color made the room appear larger and more contemporary.

The dining room paper we were leaving. But this room had a dark blue painted molding. That had to go and we painted it the same Linen White as the living room. That small touch unified the two rooms and gave it a fresh look.

The kitchen too had been wallpapered. The client was putting in a new wood floor. Between the wood floor, wood cabinets, and wood furniture, I felt we needed to use a color that was contrasting to the wood tones. Also, because the other rooms on this floor were painted in similar warm tone colors, I felt using a cool blue would be a good choice. We chose Benjamin Moore 1639 Windy Sky. It gives the whole space a clean refreshing look.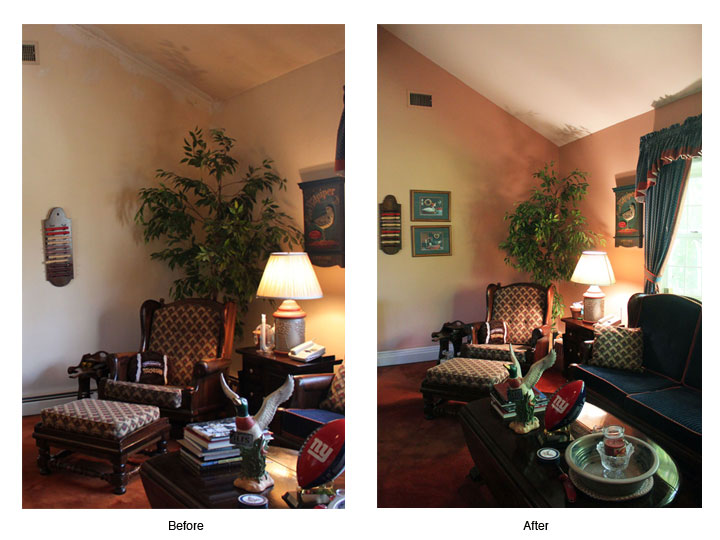 The den had also suffered water damage and had been painted a non descript beige. Because it was a large room I felt it could use a deeper color than we used in the other rooms. We chose Benjamin Moore Affinity AF205 Serendipity. It goes beautifully with the dark blue couch, rust carpeting and patterned chair. Since this room is right off the kitchen the contrast between the light blue in the kitchen and this rich terra cotta color id fantastic.
Tying the whole house together I chose Benjamin Moore 1109 Monarch Gold for the hallway. You can see the palette of colors below.